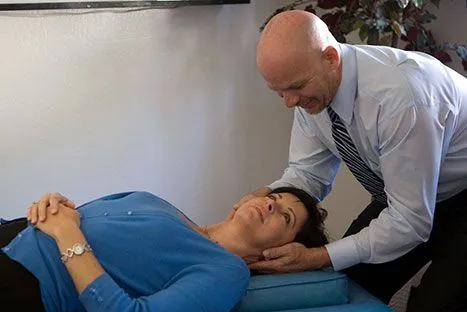 We value our patients' experience at Straight Back Chiropractic. If you are currently a patient, please feel free to complete the following Client Experience Questionnaire. The Questionnaire is in Adobe Acrobat format, and requires the free Acrobat Reader to view.
-Dr. Dave
Download & Print Questionnaire
---
"Severe aches, pains, muscle strains, nerve blockage, frozen shoulder and neck. I'm not young anymore and I can't see surviving into my 60's feeling unable to function like a healthy senior citizen. How long can a person exist feeling this bad and hoping it will go away somehow, someway? In my case, many years of pain and discomfort, and searching for medical help to relieve my neck and shoulder pain caused from a vehicle accident, roller skating accident, falls and trips, and overworking of my body with physical labor.
The last five years I have been to: two neurologists, a pain management specialist, physical therapy, massage, had Botox treatments, cortisone shots, radiofrequency ablation (nerve blocking), various forms of pain killers and muscle relaxants. I have been diagnosed with cervical torticollis (cervical dystonia), arthritis, and likely some fibromyalgia.
I have had chiropractic treatments since 1981 from another [Chiropractor]. It was hard leaving after 24 years and trying Dr. Lohman. Historically, I started out with adjustments of once every other month, once a month, and twice a month. I thought I could get by with infrequent adjustments.
After being a patient with Dr. David Lohman for three years it was time I took things seriously and got on the "treatment" route (which he had recommended three years ago.) I find that stubbornness just keeps you in pain longer.
Dr. Lohman ordered x-rays, and I saw for myself the condition of my neck and spine. I finally decided to invest in my health, I needed to feel better, and everything seemed frozen and achy throughout my body.
This past month I have had a regime of frequent chiropractic treatments and the first week laser treatments. I am feeling much better and more agile. I can move my neck without pain and my shoulder is no longer frozen stiff. Surprisingly, I am no longer achy, such as having flu symptoms throughout my body.
I highly recommend Dr. Lohman for chiropractic treatment. For me that is utmost, he has excellent cervical and shoulder adjustment technique. He is a caring and professional [Chiropractor]."
- Jeanie M.
"

I was referred to Dr. Lohman by a co-worker/friend because I had back issues. It was very bad and I was in a lot of pain. After Dr. Lohman had worked his magic, I was back in business. I had been out from work and partially disabled. Now I'm feeling great and back at work. To top things off, I have also lost weight, as Dr. Lohman instructed me to do so to help with my back issues. Big Thank You to Dr. Lohman for helping me!! You are awesome!

"

Jesus M.

"

My young son has had difficulties due to asthma. Dr. Lohman has adjusted him and treated him with the Vibra massage and that has helped tremendously. Thanks to Dr. Lohman.

"

Marissa T.

"

I suffered too long in vain, I wish I would have come in sooner. I won't wait ever again. Thank You

"

Jesus A.

"

I came to Dr. Lohman with lower back pain and numbness in my arm. After only a few adjustments, I had relief from my symptoms. Now, a year later, I come for regular adjustments and I feel better than ever. I recommend Dr. Lohman to everyone.

"

Barrett B.

"

My head was fuzzy and feeling yuk! I had an adjustment and WOW! I really felt great. My head can breathe.

"

Yolanda W.

"

Hurt my back playing football and spent 5 years going through every medical procedure and drug possible. The last Doctor told me I would just have to live with the pain (which was every day of my life). Dr. Lohman, without drugs, surgery, or shots was able to give me relief the 1st visit and within a month my life was pain free!! I cannot say enough about Dr. Lohman and Chiropractic. He literally saved my life.

"

Ed C.

"

As a patient of Dr. Lohman's for 20 years, I have nothing but good things to say. Thank you for everything Dr. Lohman.

"

Joe N.

"

Dr. Lohman's chiropractic care has helped me with my lower back problems and with a shoulder issue that I never thought could be helped by Chiropractic. (The doctors told me I could shoot it full of Novocaine or live with the pain.) With my maintenance visits to Dr. Lohman, I am able to stay on top of any back issues that may arise, and maintain a full and active lifestyle.

"

Scott R.

"

I've been going to Dr. Lohman's office now for over 4 years, and I've gotta say when my body is hurting I know where to go.

"

Connie K.

"

Over ten years ago I had a serious back injury- Since moving back to Santa Maria and my wife having me see Dr. Lohman I have felt much better. I was also rear ended and had severe neck pain and after two treatments with Laser it all went away. Later I wrenched my back and could hardly walk or stand. Laser therapy again helped me and I am now on a regular schedule. I strongly recommend anyone who has any problems to see Dr. Lohman. A great guy- A great [Chiropractor] and the biggest thing is he can help you. I guarantee it.

"

Rick S.

"

Dr. Lohman has more empathy and compassion for me and I really appreciate it because most of the doctors you go to now feel like an assembly line, too fast to really talk to you. He makes you feel important about what's really wrong with you.

"

Lilly G.

"

I had pulled my sciatic nerve and I was in extreme pain and after a week straight of adjustments and with a combination of laser treatment I felt like I was never in pain a week earlier. Thanks Dr. Lohman.

"

Lorena G.